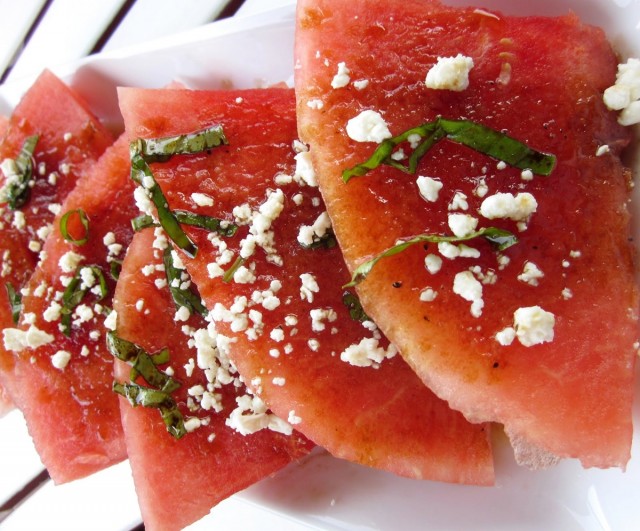 Here's a summer classic with a twist — watermelon steaks! These juicy and delicious steaks are made with cannabutter infused watermelon and topped with feta cheese and delicious balsamic reduction. The soft texture is reminiscent of fresh fish, but the flavor is sweet, savory and positively unique! Spice up your summer and surprise your friends with this fresh recipe.
Yields 4 steaks
Here's What You Need:
1 fresh watermelon
3/4 cup feta cheese
1 1/2 cup cream sherry
4 tablespoons cannabutter
1/4 cup balsamic vinegar
Salt
Pepper
Coconut oil
Optional garnishes: mint
How to Make Watermelon Steak
Begin by preheating your oven to 350 degrees. Use coconut oil to lightly oil a large piece of parchment paper that fits the size of a large roasting pan.
Next, move on to slicing off the rounded ends of the watermelon, and then cutting the watermelon into four even slices, each about an inch thick. Remove the rind and be sure to remove any and all seeds!
Lay the watermelon slices flat in the roasting pan and pour the sherry over them. Then, dot each slice equally with the cannabutter, before sprinkling with salt and just the lightest touch of pepper.
Next, cover the watermelon with the oiled parchment paper and cover the pan tightly with foil. Place the pan in the oven and allow the watermelon to roast for 2 1/2 hours or until the edges are charred.
While the watermelon steaks are cooking, place the balsamic vinegar in a saucepan and bring to a boil. Reduce to half to thicken the balsamic. When done place to the side.
After the watermelon is done roasting, remove the steaks and place on a rimmed baking sheet to cool. Strain the cooking juices but do not discard.
To plate, serve the cooled watermelon steaks with the cooking juices poured over them, along with a topping of feta cheese and a drizzle of the balsamic reduction. An additional optional topping: fresh mint!
Enjoy!
Check out other posts from Weedist's Great Edibles Recipes series!