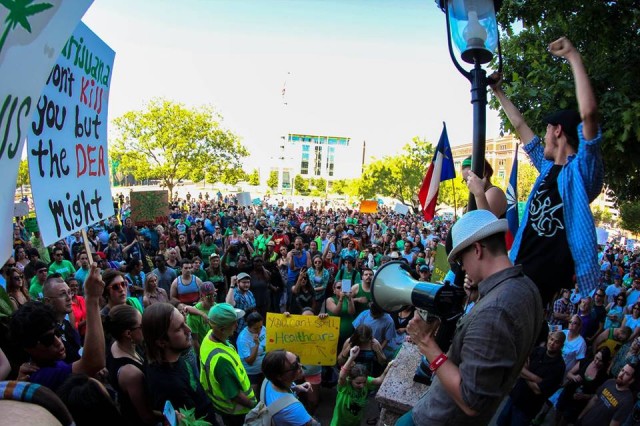 On Saturday, over two thousand Texans joined DFW NORML in Ft. Worth to rally against the prohibition of marijuana.
The rally was part of an all day event hosted by the Dallas-Fort Worth NORML chapter. The day's activities kicked off at noon with a festival style atmosphere featuring vendors, speakers, and musical entertainment. At 4:20pm the crowd marched from their location to the Tarrant County Courthouse (pictured above).
Similar rallies were held nationwide, with many being hosted by NORML affiliates, both regionally in locations such as Austin and El Paso and as far away as Newark, Delaware.
You can become part of the grassroots movement that is sweeping the nation. Join your local NORML chapter and get active in reforming marijuana laws in your own state. Click here to find the group nearest to you.
Article republished from NORML
PLEASE ALL HERE TELL: FAMILIES.
JURY NULLIFICATION IS YOUR OWNLY HOPE!!!
PLEASE AMERICANS HERE: FIGHT FOR THIS FAMILY THROUGH PROTEST!!!!
You must, must, must get articles in States about Jury Nullification being read by average American People.
For as it stands right now… I shall warn you: You will be going to prison for ten years.
DO NOT BE NAIVE ON THIS. FOR NO DEFENSE IS ALLOWED IN FEDERAL COURT.
NOTHING CAN BE STATED THAT YOU DID TO BE LEGAL!!!
WE HAVE TWO FAMILY MEMBERS CURRENTLY IN PRISON DUE TO MEDICAL MARIJUANA. THE NUMBER OF LAW-ABIDING AMERICAN CITIZENS IN PRISON FOR MEDICAL MARIJUANA IS LARGER THAN AMERICANS REALIZE.
The whole DEA, Court, Prosecutors, Prison is a horror that you can not understand what a nightmare this is. What a nightmare it is to have family members in prison.
Breaks my heart for everyone: We are out of Okemos, Mi. We are called the: Okemos Seven in news articles in Michigan. We are the articles on: FREE THE FORSBERG'S in newspaper articles in Michigan.
Contact Michigan Normal as they know who we are. People already in this nightmare, as we are, would like to give you suggestions.
Blessings, blessings, blessings… We are praying for you and heart broken for you. We have grandchildren living without their grandpa and father.