Is Gov. Mark Dayton – thankfully – softening his irrational opposition to medical marijuana?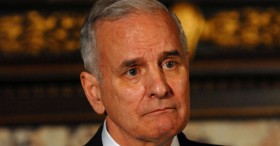 It appears as though that might be the case. Yesterday, ECM reported that Gov. Dayton will allow staff to work with patients and advocates on the issue of medical marijuana. He even expressed interest in researching the issue himself. While we still "don't know where he stands," according to Heather Azzi, political director for Minnesotans for Compassionate Care, with your help, we can educate the governor's staff and demonstrate just how ridiculous law enforcement's "blanket opposition" to medical marijuana really is.
Twenty states and Washington, D.C. all have workable medical marijuana laws protecting seriously ill patients from arrest and prosecution for using medical marijuana with a physician's recommendation. Why should Minnesotans suffering from cancer, HIV/AIDS, Dravet syndrome, PTSD, ALS, MS, and other enumerated conditions be forced to break the law in order to have a better quality of life? Ask the governor to listen to patients and providers and be skeptical of the "chicken little" opposition with which certain members of law enforcement provide him.
Article republished from Marijuana Policy Project