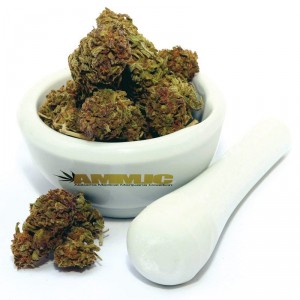 My friend and transplant from Alabama, Urb Thrasher has been keeping up with cannabis politics in his home state, and it's pretty grim. If not for Urb, I would probably not know about what's happening there, which is why I want to talk about it here.
For those of us fortunate enough to live in a place where cannabis laws are a little more relaxed, it is hard to believe that massive arrests like the one that happened recently in Tuscaloosa, Alabama still happen. But, they do. And, we don't hear about them as our jails fill to overflowing with more and more cannabis convicts. Even more surprising to me is the hostility shown to an Alabama group that supports medical marijuana just a few weeks ago.
It has also been a very long time since a medical marijuana advocacy group was kicked out of a public event for sharing information here on the West Coast. Yet, just this past summer, the Alabama Medical Marijuana Coalition was kicked out of two in a row. First, they were asked to leave the Mule Days festival in Winfield, Alabama, even though they paid their fees and submitted their application on time. According to blogger, Regina Garson, it was because they had a cannabis leaf on their banner. Garson reports:
"The Alabama Medical Marijuana Coalition (AMMJC) is the major legislative advocacy group for patients in Alabama. They are working toward the legalization of medical marijuana/cannabis based (doctor prescribed) medications in the state."
Here's what happened the following weekend at the Butterbean Festival in Pinson, Alabama:

The coalition boats over 13,000 "Likes" on Facebook. If that is any representation of the strength of their organization, it seems the AMMJC can raise the bar with these clearly uneducated festival promoters and insist on being allowed to practice their First Amendment, or they can take their supporters and start their own festival.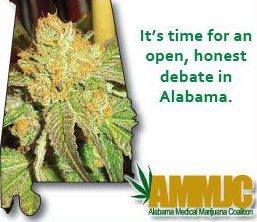 The coalition does a lot of good work, and they struggle in a state where the marijuana laws and people's beliefs are stuck in a time that has come and gone for many of us. We need to find ways to bring them along with us and make sure they are not left behind.
Russ Belville from 420radio.org interviewed Chris Butts, the director of the Alabama Medical Marijuana Coalition on his radio show, where he details more about what happened. In a note to me, he admitted that the group did not spell out the name of their organization; they provided the acronym to match their credit card information. Regardless, they were treated very rudely by festival director, Ronnie Dixon, as evidenced by the video. Clearly, they did not deserve this kind of treatment. As my friend, Urb Thrasher says, "It's all about freedom."
Contact information for the Butterbean Festival is available here, if you would like to tell Mr. Dixon what you think about the way he treated patient advocates. Mule Day in Winfield can be contacted here to do the same. Even if you don't live in Alabama, you can let these people know that the country is watching them, and it's time to stop discriminating against medical marijuana patients whether there is a law in place or not.
You can find out more about what these courageous activists are doing on their website. And remember that there are many places like Alabama where there is no freedom – only fear – fear for those who must hide their choice of medication led by those who fear what they do not understand.