Greetings Weedists,
Today's selection of great cannabis television skipped across the Atlantic.  This is a re-imagining of what is perhaps the original crime drama, Sir Arthur Conan Doyle's Sherlock Holmes.  Set against the backdrop of modern day London, Sherlock is at once gritty and intense yet maintains an undercurrent of humor and, at times, touching humanity.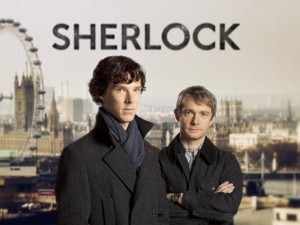 Sherlock (played skillfully by Benedict Cumberbatch) has traded in his signature double-rimmed hat and pipe for a smart phone and nicotine patches, but his legendary deductive powers and brusque manner are in top form. Dr. John Watson (acted by Martin Freeman whom you may recall just starred as Bilbo Baggins in The Hobbit) is still a doctor, but in this incarnation he is an army doc freshly returned from Afghanistan.   The show has hints of The Odd Couple as well, as Sherlock and Watson are flatmates. Holmes is brilliant, but socially awkward and devoid of personal relationships, other than a contentious sibling rivalry with his elder brother Mycroft. Watson is compassionate, sensitive and loyal, but with an "average" intellect.
At first, Cumberbatch's Sherlock is harsh and unlikable, even to the viewer.  I suspect this is intentional to let the viewer feel what the other characters of the show feel about him. He is more or less disliked by "official" law enforcement (they refer to him as "Freak"). As the show evolves, you see a human side to Sherlock. You start to see that he uses his formidable mind to hide his complete ignorance of how to be human.
Weedists, I encourage you to you smoke, drink, eat, or vaporize your favorite strain of cannabis and give this show a chance. There are a lot of interesting images, super-close up magnifications and cool music for you to enjoy. Sherlock may have given up his pipe, but I would suggest getting yours out and packing it full of some fantastic greens. Get high and take a crack at solving the cases before Sherlock can (not as easy as in your average crime mystery).