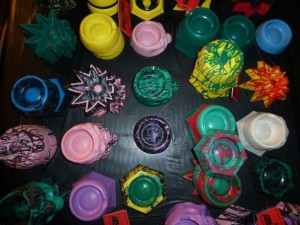 Smashtray Tap This ashtrays and accessories are handmade in San Diego, California.  All  products are made with a non-toxic, food-grade and practically indestructible material.
They come in a variety of shapes and colors that appeal to everybody and fit any decor.   They are dishwasher safe, and they clean up and hold up well.  They keep that brand-new look wash after wash, which is true, even though it does sound like a laundry commercial.  The colors don't fade.  And, since they are safe with temperatures up to a gazillion degrees, they don't get any ugly burn spots like plastic ashtrays.
And, just like in their YouTube commercial, you can smack a bowl pretty hard without breaking it…I tried, and it didn't happen.
The ash trays are reasonably priced, especially when you consider how many replacement bowls you WON'T have to buy once you switch to Smashtrays.  With Smashtrays strategically located at your next sesh, the buzz-kill of the infamous bowl-breaking party foul goes way down.
From their website:
"We also plan on doing special "limited edition" Smashtrays™ whether it be from our personal artist or a special guest artist. So be on the lookout.
- Never Outsourced to maintain quality.
- 100% Non-Toxic Premium Base.
-Withstand temperatures up to 500°F
- Employee Owned Business
- Customizable with various colors and ability to stamp a logo
- Gripping bottom so it won't slide in a car, boat, or RV.
- U.S. Patent and Trademark Pending
"The Ashtray designed with the smoker in mind."™""
Smashtrays are available online and as available at the World Famous Cannabis Cafe.  Chances are, you will also find them at a cannabis event or festival on the West Coast.