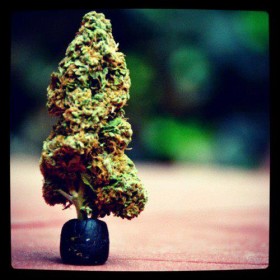 Christmas is just around the corner, and if you're a procrastinator like me, you haven't crossed much off your gift list yet. Don't worry, there's still time to select the perfect presents for all of the weedists in your life! You may have to use expedited shipping for some gifts in order to receive them in time for Christmas Day, so keep the ticking clock in mind.
Check out our list of great Christmas gift ideas:
Awesome Paraphernalia
Many weedists love to own many different types of smoking gear, from glass bongs and pipes to vaporizers. You can't go wrong as long as you know what your budget is as well as the particular tastes of the receiver of the gift. For those with limited funds, how about a one-hitter or an Aqua Pipe? If you've got more money to spend, consider a vape pen or a Vapor genie, which is a lighter-powered vape that hits like a bowl. Or how about a Piece of the Week?
Also consider a kick-ass grinder. We suggest Mama P's Classic Grinder, which is considered to be one of the finest herb grinders in the world.
Homemade Gifts
There aren't many things better than a gift that was made with care from a special friend or family member. For edible lovers, make some homemade brownies or some Red Velvet cupcakes. You can get more recipes for baked goods at The Stoner's Cookbook.
If you are a grower, what better gift than the fruits of your own labor? If everyone on your list is a weedist, all of your presents are already covered! Present the receiver with a clone that has a big red ribbon around it.
Weedist Gear
Give the gift of good taste this Christmas by proudly presenting that special someone with their very own Weedist gear!
Books about Marijuana
Every weed enthusiast should proudly own at least a book or two about cannabis, and there are plenty of them available to stock bookshelves. Check out Amazon's list of the Best Marijuana Books of All Time, which was compiled by an editor of High Times magazine. Also highly recommended for weedists is the recently published Smoke Signals: A Social History of Marijuana – Medical, Recreational and Scientific by Martin A. Lee.
Storage Containers
You can get creative by giving a personalized weed container or a spice rack with glass jars for great storage and visual purposes. Or consider Doob Tubes, which allow you to carry pre-rolls with confidence while keeping them odor-proof and waterproof.
Stocking Stuffers
Don't forget the stocking stuffers! Individual grams of various strains (or eighths or quarters if you are feeling extra generous) are perfect little gifts to fit into a Christmas stocking. Seeds are also much-appreciated gifts. Also consider a bottle of 99% isopropyl alcohol (weedists can never have too much of this around!) or a few pre-rolled cones of a nice sativa to enjoy on Christmas morning. The possibilities are pretty much endless!