Judges' positions for the Oregon Medical Cannabis Awards are still available as of this writing on Sunday, November 11, 2012. The Awards will be held on Saturday, December 15, 2012. Judging is open to registered Oregon Medical Marijuana patients only.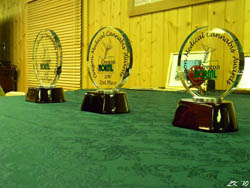 Judges packets will be  ready to go out on November 15th to allow plenty of time for sampling. In a blind taste test, judges are given 28 samples of Oregon's finest medical cannabis to sample and judge in the privacy of their own homes. They score each strain on appearance, aroma, taste, smoothness, potency and medicinal effect.  
"This is not the first time that our entrants' spaces have filled up first, but it still surprises me," reports Madeline Martinez, owner of the World Famous Cannabis Cafe and hostess of the event. "When we first started the OMCA, this was the only access to medicine that some patients had for the whole year.  We have come a long way since then."
A Facebook page was started on September 1st to make it easier to enter. Entry forms are also available at the cafe website.
Now in its eleventh year, the OMCA started as a way to document the effects of various strains. No testing was being done to help patients learn which strains worked best for their conditions.  So, Oregon NORML took on the task which was passed on to the World Famous Cannabis Cafe in 2010 when NORML changed their chapter guidelines.
The OMCA also recognizes heroes within the Oregon cannabis community. This year, the Dr. Rick Bayer Award goes to Paul Stanford for his valiant efforts at legalization.  The Freedom Fighter of the Year Award honors the Measure 80 Campaign Crew.
Oregon patients can register to be judges by November 15th:
Oregon Medical Cannabis Awards 2010: J. Mack and Big Dub – Pass the Legislation