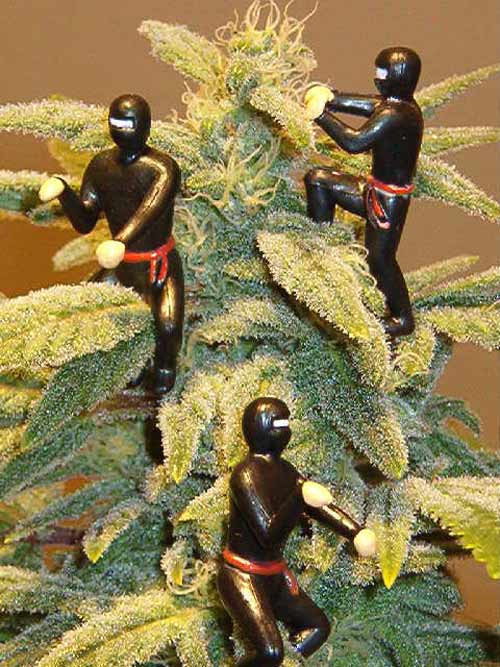 As I've aged, the pockets of time where I can whip out that massive glass bong have sadly considerably decreased. I've come to deeply appreciate edibles & tinctures as the perfect solution to discretely & effectively medicating. For those of us that live in 'evolved' states, the selection, quality, and pricing of edibles are fantastic. For those of you still stuck in police states, here's just a taste of what you're missing from one of the Bay Area's best know dispensaries (Harborside Health Center's Edible Menu).
If you've never tried edibles, just remember it's both a different kind of high and can take up to 90 minutes to kick in depending on your body weight, if you are on a full stomach, etc. so experiment gradually & appropriately.  Lower dosage edibles are great for remaining functional and having a great full body buzz for 2-5 hours and still feeling pleasantly relaxed afterwards (high dosages often equals couchlock and a great deep night's sleep, which is outside the context of this article).   For lower dosages of edibles, an empty stomach will shorten the time to feeling the effects or 30 minutes after a light meal/snack.
Just a few use-cases for lower dosage edibles:
Hour before the movie starts in the theater with no place to smoke or friends/colleagues you need to be stealthy around
Light hiking, golfing, etc.
A bagful for that looong weekend at the in-laws
Just before you check-in for that 3+ hour plane ride
Establishing a base nice full body buzz that can be supplemented with smoking or vaporizing.  Since combustion of cannabis isn't the healthiest way to consume it, edibles are a great way to help cut down smoking.
Weedist's checklist of what makes for a great edible that leaves one functional:
Desired Effect -  Looking for that perfect level of head and body buzz that still leaves me functional.  It' s like having just the right amount of wine without the hangover or calories.
Low dosage increments – Low base dosage level that's easy to measure. This allows for better tailored effect to account for things like did you already smoke, on a full stomach, light hiking vs. sitting for a concert.
Discreet – No blatant look or smell of cannabis.  Easy to discreetly consume.
Transport friendly – Easy to transport w/o special containers, stays fresh, doesn't melt.
Cost per Dose – Edibles can vary widely on cost per dose.  Whereas all edibles are a better bang for the buck than that $9 drink at a bar, we still strive to maximize our dollars!
Sample Edible that makes the Weedist cut: Butter Bros Caramels

Each tasty individual wrapped caramel is a 1/2 dose (2 caramels = 1 full dose = 0.4 g dry weight of cannabis). They come in four flavors: rum raisin, root beer, maple, and maple nut.  4 caramels costs $7.  We only purchase the maple nut flavor as it's the only one that comes in a 13 caramel pack for $20.   For the experience & level of discreetness each caramel provides, your $20 goes a long way!
They have a very strong maple, nut, sugar smell…you know a caramel.  A small room will smell like a candy shop.  We still transport them in a oven/turkey bag or 2nd best freezer/double ziploc bag out of habit.  For the context of being functional / sociable with non-weedists, the single caramel is the perfect dosage for me.  These caramels are extremely discreet and easy to consume.  50-80 minutes later I'm in a great place and groove, and ready for business!  Typically, we experience a great 2-5 hour full body yet mellow high that leaves you relaxed for hours after the high ends.
Sample Tincture that makes the Weedist cut: Ganja Glycerin
Here's a method to deliver marijuana via liquid form with glycerin, a sugar substitute.  They suggest using 3-5 drops per dose and there's approx 7-12 doses per bottle.  The bottle goes for $20-$25, so it's still a great cost per dose, though not as good as the caramels.  In our experience, 3-4 drops is a good 1/2 dose, comparable to having a single caramel.
As it's mixed with glycerin, this is extremely sweet with a strong taste.  Thus, we don't consume it straight or with lightly flavored beverages, such as lighter teas.  Personally, I love it in coffee or diet soda.  There's a fairly strong odor when you open the bottle, so if this is a factor, it's best to put it into your drink somewhere discreet.  Once it's dropped into a stronger flavored beverage, i.e. coffee, there's no concern over smell.  On the plus side, ganja glycerin kicks in within 20-35 minutes (1/3 to 1/2 of time vs. caramels).  However, the high only lasts 2-3 hours (about 1/2 time of caramels).
So what are your thoughts on edibles and tinctures?  From both the effects to your favorite use cases for them!