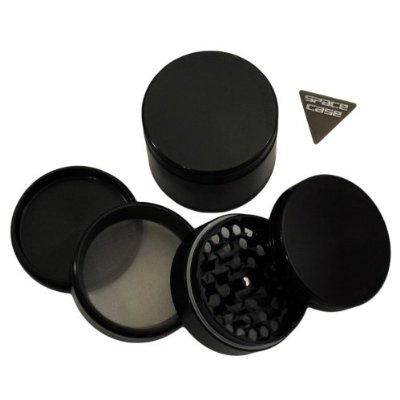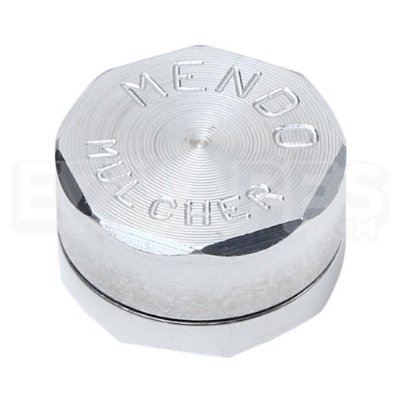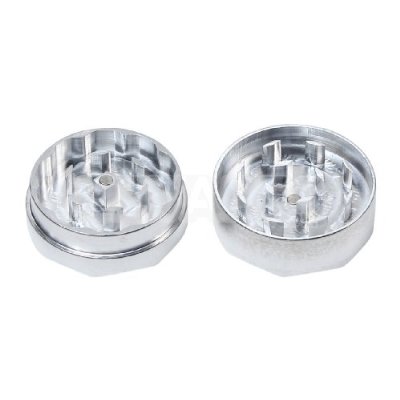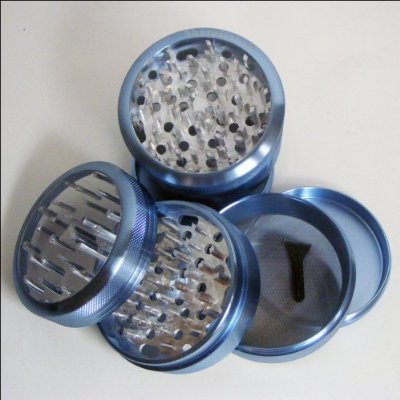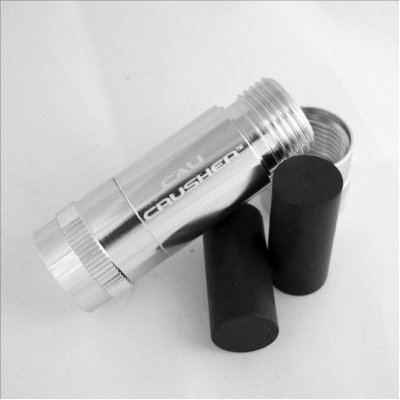 A marijuana grinder does exactly what the name implies, it grinds up your buds so that they burn evenly.  A grinder simply accomplishes this better than any other method and every weedist should have one in their toolkit.  Grinders can be made out of many materials, including wood, plastic, or various kinds of metal.  I am partial to aluminium or titanium grinders.  Wood ones work fine as well, but they'll have to be replaced over time.  Plastic should be avoided because small particles may break off in your weed which you could end up smoking, that kind of defeats the purpose!
There are 2 piece and 3-4 piece grinders.  2 piece grinders are great for your mobile toolkit since they're smaller and simpler to use.  For home use, as you'll read below in the Kief section, a 3-4 piece grinder is the only way to go.  I use a smaller sized 2 piece grinder for the road and a medium sized 4 piece grinder for home use.
2 piece grinders are extremely self-explanatory to use: place some bud in (try to avoid placing dead center), twist 5-10 times and gently shake for a couple seconds while still closed. Open it with the bottom rounded part in the palm of your hand and carefully turn over where you want to pour your materials onto (i.e. a clean sheet of paper, your mason jar lid upside down, your washing machine, etc), then lightly tap to help get the ground material out.  If some material is still stuck, simply re-close and twist in both directions again, open and tap the pieces together to dislodge the material.
Here's a great set of directions and picture on how to use a 4 piece grinder from Weed Grinders 420.
Benefits of a grinder:
Taste / Smell / Looks: Grinding up the buds really unlocks the wonderful aromas that isn't matched by your fingers.  Grinding creates a much larger surface area of virgin material that smells and tastes amazing.  The consistency even looks sexier than the randomly-sized lumps from breaking apart by hand.
Potency/Efficiency: Whether you're smoking, vaporizing, or ingesting, it's best when your buds are ground beforehand.  The herb is ground up into small consistent pieces, which maximizes surface area.  This also helps provides a nice even burning/vaporizing and avoid things like 'canoeing' on your joints.  Ignoring the annoying aspect from sticky fingers when breaking up buds by hand, more importantly those sticky fingers are soaking up trichomes and hurting potency.  All of this translates into increased potency/efficiency.
Cost Savings:   Increased potency and efficiency translates into cost savings as you don't need as much marijuana to produce the same effect.  If combustion is your normal means of consumption, this also means you can cut down on the amount of smoke you're taking in.
Time Savings: Nevermind all of the above benefits vs. breaking up by hands or with scissors, get to the reward faster.  Grinding can be done in 1/4 to 1/2 of the time of the more manual methods!
Kief: If you use a 3 or 4 piece grinder, it should have a kief catcher.  Kief refers to the trichomes (the resin glands, 'crystals') which is the more pure & potent part of the plant and what's used to make hash.  After a couple of weeks you'll have a nice little pile of kief.  Just sprinkle some on top of your marijuana for an extra kick or smoke it straight for a wild ride.  Some of the higher-end grinders even come with 'pollen presses' for some homemade hash.
Cheaper grinders can be as low as $5-$15 depending on where you live.  With grinders, you get what you pay for.  Cheaper ones may leave more of the good stuff stuck on the grinders, require replacement more often, don't catch any kief, etc.  For $20 there are some smaller sized 2 piece ones that are great for traveling, such as the Mendo Mulcher 2pc Alum Grinder 40mm.
Higher-end grinders will run $30-$90.  Three of the more respected brand names are Space Case, Sharpstone, and Mendo Mulcher.  These higher-end models will reap the most out of the benefits grinders offer.
I have a titanium medium-sized Space Case grinder for home use and love using it.  What kind of grinder(s) do you use?  Are you an old school hand and scissors weedist?